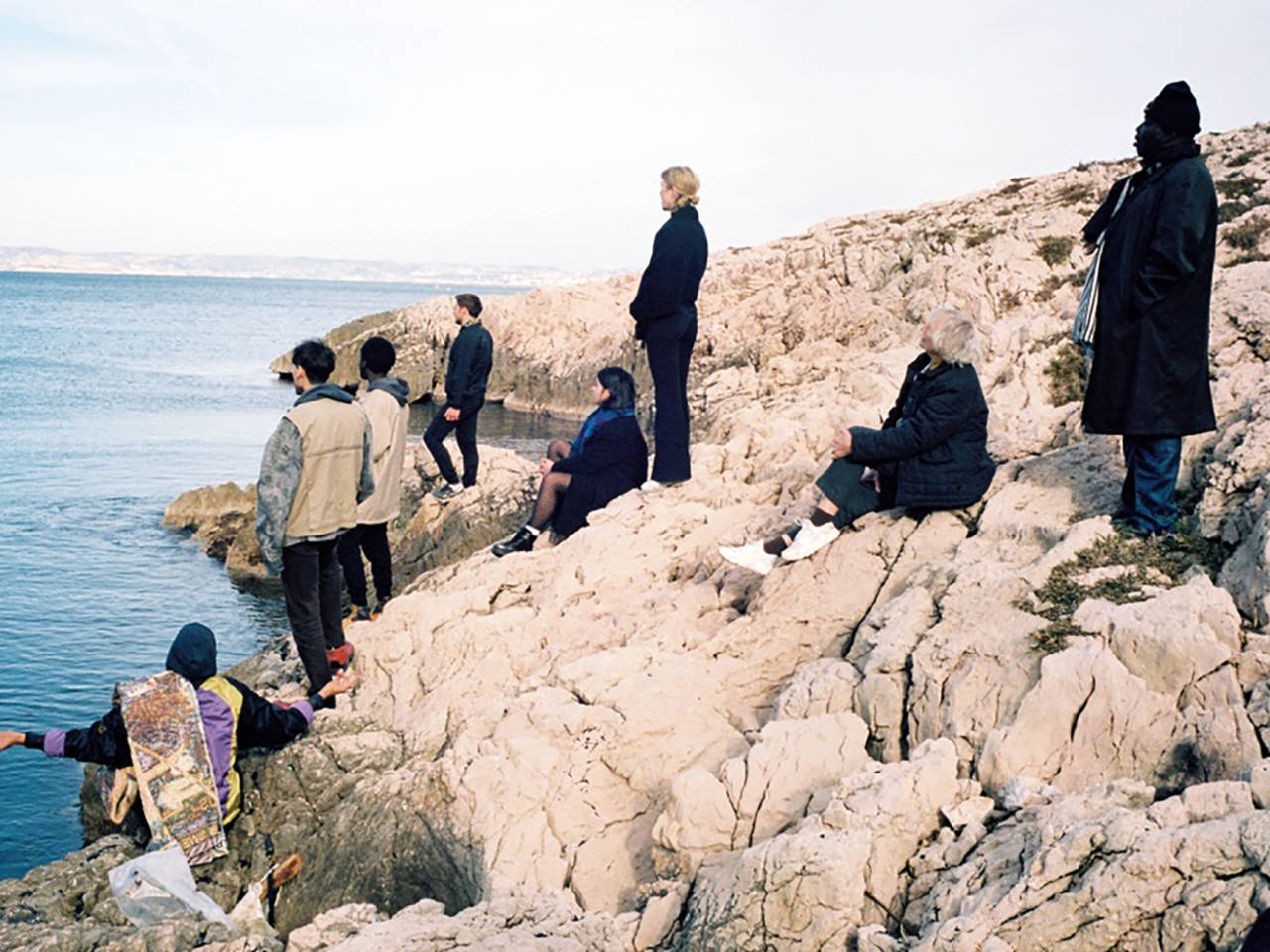 From the depths of my heart
To the depths of the sea
From high in the clouds
To my brain set free 
For her critically acclaimed project for the French Pavilion of the 58th Venice Biennale, Deep See Blue Surrouding You / Vois Ce Bleu Profond Te Fondre, Laure Prouvost has imagined a liquid and tentacular environment, structured around a reflection on notions of generations and identites. Next comes the idea of disconnection, incomprehension, and discrepancy, through an exploration of language and its misappropriation. Finally, tinged with utopia and surrealism, the project discloses an escapist journey, both tangible and imaginary, towards an ideal elsewhere. It takes the form of an invitation to melt into the different unveiled and shared realities intermingling here and challenges the representation of a fluid and globalized world, made of exchanges, connectivity, and discrepancies. The cornerstone of Deep See Blue Surrouding You / Vois Ce Bleu Profond Te Fondre is a fictional film entitled They Parlaient Idéale. It takes the form of an initiatory journey, a joyous saga filmed over the course of a road trip on horseback through France—from the Parisian suburbs to the northern region, from the Palais Idéal du Facteur Cheval to the Mediterranean Sea —and, finally, to Venice. The film, full of dialogues and idioms, is based on a script in French and English with some Italian, Arabic or Dutch passages. The scenes are performed by a dozen characters of different ages and backgrounds, with specific performance skills: magic, dance, music, etc.
As an extension of the French Pavilion, Laure Prouvost presents at the Théâtre du Châtelet a screening of her film They Parlaient Idéale accompanied by live performances of the characters from the film, followed by a concert of the two musicians who have composed the soundtrack of the film — Lafawndah and Flavien Berger. Lafawndah's music is a bracing statement of intent, drawing from a personalized map of influence while resisting categorization and easy analysis. Underpinning it all are dramatic and powerful beats, drawing the club, composition, and popular song into thrillingly unresolved, ultramodern erotics. Here she interprets her new opus The Fifth Season that breathes a different kind of volatility, inviting a new degree of spontaneity into her process, reflected in collaborations with a tubist, a trombonist, a percussionist and a rapper. The Fifth Season is due in June on Parisian imprint Latency. Playing with words to create sentimental stories, the self-taught musician Flavien Berger tests swirling sounds and brings a breath of fresh air on the French scene. He works with artistic experiments, and has always been interested in fiddling with engines and making sounds. It is hard to define his style: he goes beyond boundaries, wonderfully managing to deal with strain moments and long synthetic patches. Here he interprets the soundtrack of Laure Prouvost's film that he has written and composed, and which excerpt "Deep See Blue Song" has been released last fall on the Parisian label Pan European Recording.
Film
Laure Prouvost
Music
Flavien Berger et Lafawndah
Curator
Martha Kirszenbaum