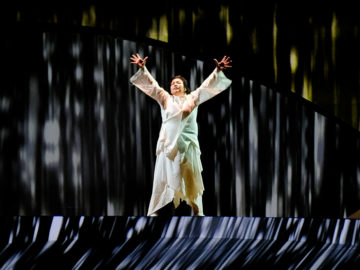 National Theater of Korea
Saturday
20 june 2020
20h00
Grande Salle
Carte soliste
Carte tandem
Sunday
21 june 2020
15h00
Grande Salle
Carte soliste
Carte tandem
Carte jeune
Carte tribu
Tuesday
23 june 2020
20h00
Grande Salle
Carte soliste
Carte tandem
Wednesday
24 june 2020
20h00
Grande Salle
Carte soliste
Carte tandem
Carte jeune
Friday
26 june 2020
20h00
Grande Salle
Carte soliste
Carte tandem
Carte jeune
Invited by the Korean National Theatre in Seoul, Singaporean director Ong Keng Sen suggested to adapt Trojan Women into a contemporary opera based on pansori (traditional Korean musical stories).
Through Euripides' Greek tragedy, her show Trojan Women draws a parallel between the trauma of Trojan women and the suffering that Korean women have experienced to this day.
Ong Keng Sen used changgeuk, a theatrical genre derived from pansori. This show is performed by the National Changgeuk Company of Korea, and the pansori themselves were composed by a living legend: Ahn Sook-sun, the most famous singer of this musical genre in Korea. But, war and its violence being a timeless theme, Ong Keng Sen wanted to add a contemporary component to his show. "I had the good fortune to be introduced to the composer Jung Jae-il. I wanted to address in an unusual way the ambiguous role of Helen of Troy, and I also wanted to understand why pansori coexist with contemporary music in the changgeuk. And so, I decided to cast Helen as an intermediary between male and female. And I chose a pansori singer for this role. I also wanted to bring K-pop (Korean pop) into Trojan Women because the show includes elements covering several centuries, from the Trojan War to the present day." Ong Keng Sen added the K-pop to the choirs, which usually comment on the events of Greek tragedies.