Publics, partners & patrons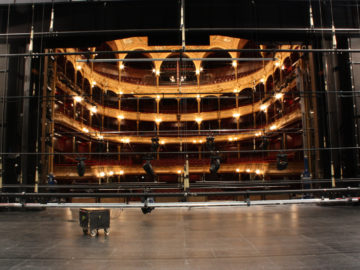 Development at Châtelet
Through a global vision, the "development" pole of the Théâtre du Châtelet brings together actions aimed at all audiences and the diversification of resources with the development of new partnerships. Thus public, private, civil society, individual spectators, are gathered around the Châtelet to accompany the Theater and promote artistic and solidarity actions, social and cooperative.
Many ways to get participate
Châtelet wants to reinvent interactions with everyone as a project partner, to create strong and meaningful relationships. Spectators, companies, foundations, associations, schools … all have a role to play in building bridges of discovery and access to works, on a foundation of solidarity, exchange.
Joining the Châtelet is getting involved and decompartmentalizing practices, artists and amateurs, financial donors as donors of time and ideas. This involvement can take various forms: donations, volunteering, partnership, patronage, sponsorship, membership of a circle …
Each donation, financial or active contribution, each initiative, individual or collective is a way to deploy the actions of Châtelet, to open to more activities as possible keys to a new model of a shared dynamism.
Beyond the involvement of everyone, the Theater wishes to form alliances with major partners for all of its programming and actions. For these major partners, donations are not necessarily measured by their funding but by the quality of their investment and on the basis of their loyalty, their willingness to transmit.  For the 2019-2020 season, Théâtre du Châtelet thanks its Partners
The "Robin Hoods" inscribe solidarity at the heart of their principle, allowing unaccustomed spectators to come and discover the Châtelet program. On the principle of suspended tickets, individual companies can indeed finance a portion of show tickets that will be made available. The members of Robins des Bois thus commit themselves to a gesture of solidarity at the time of the purchase of their place or their subscription, and share together the pleasure of discovering a show …
We answer all calls and messages dealing with the Robin Hoods
Contact
Contact us by phone on +33 (0) 1 40 28 29 50 or by e-mail at developpement@chatelet.com with your contact details, and the show or shows for which you would like to offer tickets.
We will get back to you very soon.
Development of public projects
In coherence with its ambition of cultural democratization, the Châtelet builds projects allowing all to discover the programming and to directly experience the practice and the artistic encounter. This ambition to anchor the artistic closer to everyone has been experienced throughout the period of work, including investing the street as a space for expression. It continues simultaneously, opening to new spectators and the loyalty of all audiences.
Magnificent Italian-style theater, the Châtelet is an emblematic place, a building listed as Cultural Heritage by UNESCO. It has more than 2000 seats, and many spaces of exception, which allow to organize events, privileged moments in connection with values and projects.
Spaces to invest
If the quality of reception of the public at each of the representations is essential, it is also important that the Châtelet in its different spaces becomes an open place, a place of convergence, where everyone feels welcome. The Théâtre du Châtelet puts its spaces at the disposal of partners (Auditorium, Foyers, Salon Nijinsky, Debussy, terrace …), by proposing tailor-made services to organize their events in this prestigious and unique setting (private parties, conferences , breakfasts, professional conventions, cocktails, advertising shots, etc.). The different spaces of the theater have been restored during the two and a half years of work.
The Châtelet thanks its partners who allowed the renovation of the Theater:
Accor for the restoration of the Auditorium
The Heritage Foundation, thanks to the sponsorship of the Total Foundation, for the restoration of the Grand Foyer The International Circle of Friends and Patrons of the Theater for the renovation of the Avant Foyer
As well as all the contributors of the public subscription for the renovation