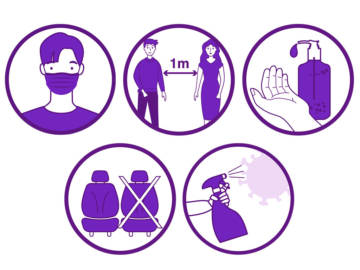 Security measures / Covid
Very concerned about your welcome, we make every effort to go beyond the official health recommendations and we redouble our vigilance so that your arrival is made in full confidence and safety.
Wearing a mask is mandatory for everyone, from 11 years old, in all public spaces including the auditorium during the performance.
An empty seat separates the seats, which can be grouped together up to a maximum of 6.
All the spaces of the Theater are regularly disinfected, including during the performances, and hydro-alcoholic gel is made available.
When circulating in the Theater, the application of barrier gestures remains essential. We count on your participation.
The reception and security staff are there to help you in your movements. They are authorized to make respect the safety instructions, thank you to follow them in order to guarantee the good progress of the evening.
The renovated air-conditioning of the room and the whole building complies with health standards. It allows a good ventilation and a permanent renewal of the air.
The checkroom is closed, however helmets and umbrellas can be left. Thank you for your understanding.
The bar is closed. Thank you for your understanding.
The theater opens 45 minutes before the performance. In order to fluidify the circulation, we invite you to pass the control as soon as possible.
The exit of the public has been redesigned so as not to clutter up the hall and the access through the Place du Châtelet. The reception staff will guide you from your seat.
Please arrive no later than 30 minutes before the start of the show and download your ticket on your smartphone to facilitate your welcome.
Last-minute reservations can be made at the ticket office at 17 avenue Victoria.